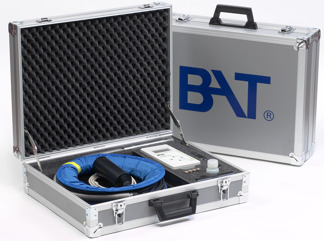 BAT Piezometer (#1-200)

Pore Pressure measurement
BAT Piezometer is an innovative and proven technology for pore pressure measurements, which has been on the market for more than thirty years. Through the years BAT has gained a lot of experience within the field of pore pressure measurements, which we share with our clients to determine the best instrumentation to meet the specific needs for their projects.

The BAT Piezometer can be used for pore pressure measurements in both the saturated and unsaturated zones of soil. Key features of the BAT Piezometer are high accuracy combined with flexibility and long-term reliability.

BAT MkIII Filter Tip & pressure measurements
The BAT Sensor makes a leakproof connection to the BAT MkIII Filter Tip by the injection needle. For taking a single pressure measurement the BAT Sensor is lowered down the extension pipe until it connects to the BAT MKIII Filter Tip. Simply by gravity, the injection needle penetrates the flexible septum in the filter tip. The existing pore pressure is then displayed by the
BAT Field Unit.

The BAT Sensor is completely self-contained and features an absolute pressure sensor combined with an AD converter and an internal datalogger.
Without complicated conversion factors this Intelligent Sensor immediately displays the measured pore pressures in the chosen engineering unit. The sensor is also equipped with a temperature gauge.
Together with a replaceable, ordinary D-battery the BAT Sensor can collect and store data in a stand-alone mode up to 10 months.


The BAT Field Unit is used for programming the sensor (interval, parameters) as well as for downloading measured data. The BAT Field Unit contains an atmospheric sensor for relative pressure conversion.

Thanks to the digital protocol the BAT Sensors are easy connected to each other in larger networks. Up to 100 BAT Sensors can be interconnected in one network using only a single cable in between.